Whoops, did it again. At least the finish is better this time!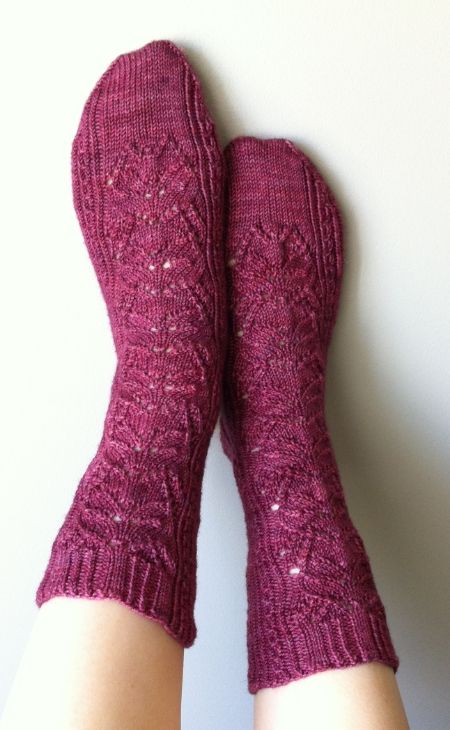 Pattern:
Kam Chu
, by Adrienne Fong
Yarn:
Invictus Yarns Master of My Feet
, in Decadent
Needles: 2.25 mm / US 1
Rank: #44
It's been a while since I've worked a pair of lacy socks. It's, um, been a while since I worked anything that wasn't mostly stockinette, actually, which is something I've become aware of as the Tour goes on. I'm out of practice with anything that isn't a straight shot of knits or purls, so I'm kind of slow. (It's not the yos that get me, it's the decreases.) I managed to score some points this time, but I'd still like to do better on the next round. (We'll see though. It looks like some colourwork. I have almost zero experience with colourwork. Gleep.)
My slowness notwithstanding, this was a very nice pattern - well written, requiring no guess work. The chart was big, but by the foot of the second sock, I had it in my head - hey, I'll take it. I like the detail of the rings at the edges of the legs carrying down the heel flap. In the end, I got a pair of socks that I am quite pleased with.
Check out my sturdy ankles. Sigh.
The yarn is gorgeous, and pleasant to work with - though I did find that it's got a tiny bit of a halo to it, and I would sometimes end up grabbing fibres from the halo of the next as I worked, which would pull the stitch off the needle as I completed the previous stitch. There was also a tendency for me to pick up plies of adjacent strands or not all plies of the intended strands when working the decreases. This may be entirely due to the fact that I was using my super sharp Sigs. I'll have to try again with slightly blunter needles (my Knit Picks Sunstrucks or Harmonies). Don't get me wrong - I still think this is great yarn, and I would absolutely buy tons more and recommend it to anyone who asked. But when you're racing, those little fouls start to annoy more quickly than they would otherwise!
Okay. Stage 3 starts Thursday evening. In the meantime? Maybe I can get another sweater knocked out. More stockinette. Not exactly the sort of training I need, but whatevs.