Also known as the sparkly edition!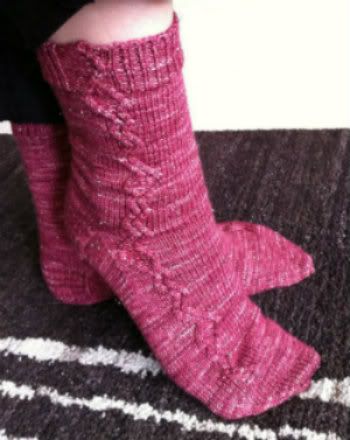 Pattern:
Chasing Snakes
, by Mercè Janer Olives
Yarn:
Yummy Yarn Studio 80/20 Merino/Nylon Superwash Sock
, in Blush
Needles: 2.25 mm / US 1
(Not sure why that photo has a soft focus effect - the original didn't, I did some tinkering to crop and resize in Photobucket and ended up with that. I suspect the resizing is what did it, but I'm not image-savvy enough to know why.)
I really like this sock pattern for semi-solid sock yarns - though those sorts of yarns are really great for any sock pattern. It's a fun knit, too. I don't really have any more comments on the pattern, since, well,
I've done it before
. Oh, but I did a tubular cast on this time, and it worked out terrifically.
The yarn was a fun diversion. Sock yarns with a strand of something reflective in them have been around for a while now, but I didn't get the urge to add any to my collection until very recently. (I say
something reflective
because this strand is sort of variously labelled - I've seen it called
angelina
,
stellina
,
silver
,
sparkle
, and, by critics,
tinsel
.) True, I generally avoid overly flashy things, but socks are small, which means they can be flashy without being obnoxious, so some flashy socks suddenly struck me as maybe fun, so I picked up some sparkly yarn to give it a whirl. One batch, from
Knit Picks
, I ended up turning into a shawlette for a Christmas gift. But this skein from
Yummy Yarn Studio
struck me as just right for this pattern.
And so I made it so.
I'm not sure what will be next, sock-wise. I mean, I've got some plain stockinette socks that I'm working on here and there - not very frequently, so it's slow going - but I mean for my next patterned pair of socks. It could very well end up being another pair of these! I feel like I should go for something new, but man. It's hard to turn away from something so good.