You tell me - does this hat suit my head?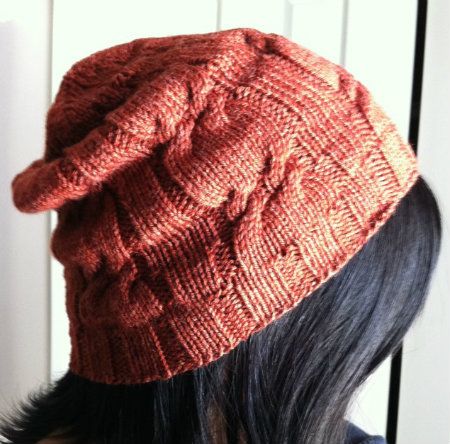 Pattern:
Beckett Beret
, by Mary Veterano
Yarn:
Naturally Merino et Soie 8 Ply
, in Tamarind
Needles: US 6 / 4 mm
Timed challenge: 8 hours 30 minutes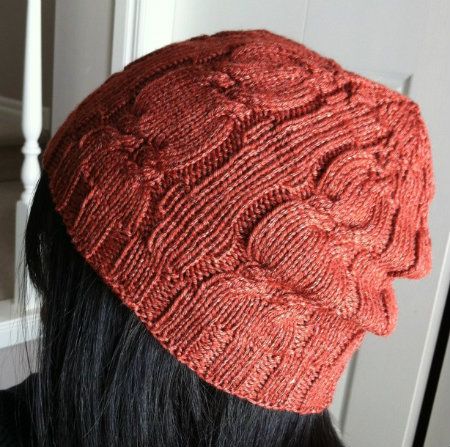 Yes, this is the hat my mother was knitting that afternoon when I wondered how my speed matches up with hers. In the end, she got slaughtered by gauge, because she had the wrong number in her head as the target, and ended up frogging the resulting ridiculously large hat - my cousin got a couple of different hats instead. And she wasn't timing herself - since I didn't tell her it was a race - so I really can't compare my time with hers in any meaningful sort of way. I know it took me 55 minutes to do my ribbing, increase row, and set-up row, but it also took me 30 minutes to cast on - I used Jeny Staiman's Slipknot cast on, with which I am really slow. Mum used a long tail cast on, with which she is lightning fast.
Anyway.
Mods: I didn't do 1x1 rib (so it probably isn't even fair for me to compare my time to my mother's since we weren't even knitting the same stitch pattern) - I wanted to play with ribbing a little, and had big bold ribs in mind, so I went for k4p2 instead. I also changed the crown decreases ever so slightly, in that I knit rounds 7 and 8 in reverse order so that I could avoid decreasing on a round right after a cabled round. Other than those two changes, I followed the pattern diligently, working two repeats of the cabled pattern in the hat's body before starting the crown decreases.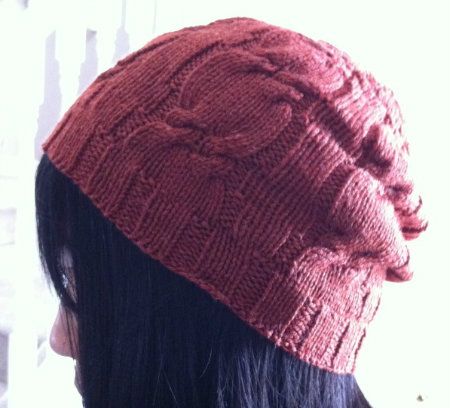 My hat doesn't look like the sample shown in the pattern - maybe if I'd blocked it over a plate, it would have, but that's not how I roll. I just did my usual light block: soak, lay flat to dry, arranged the way I want it. The resulting hat shape is slouchy, but not overly so - in fact, I wouldn't call it a
beret
myself. To me, those have more volume to them - and I've learned that for me there's a danger of looking like a mushroom head with that style hat. This, though - a slouchy tuque sort of hat - I think it might actually work for my head, and at present, I like this hat.
This hat was knit using some of the leftover yarn from a sweater - I'm not sure how I feel about matching hats and sweaters, so I'll have to be careful to avoid reaching for this hat on days I'm wearing the corresponding sweater.
The solution? To knit myself some more hats, so that I have options. Of course.